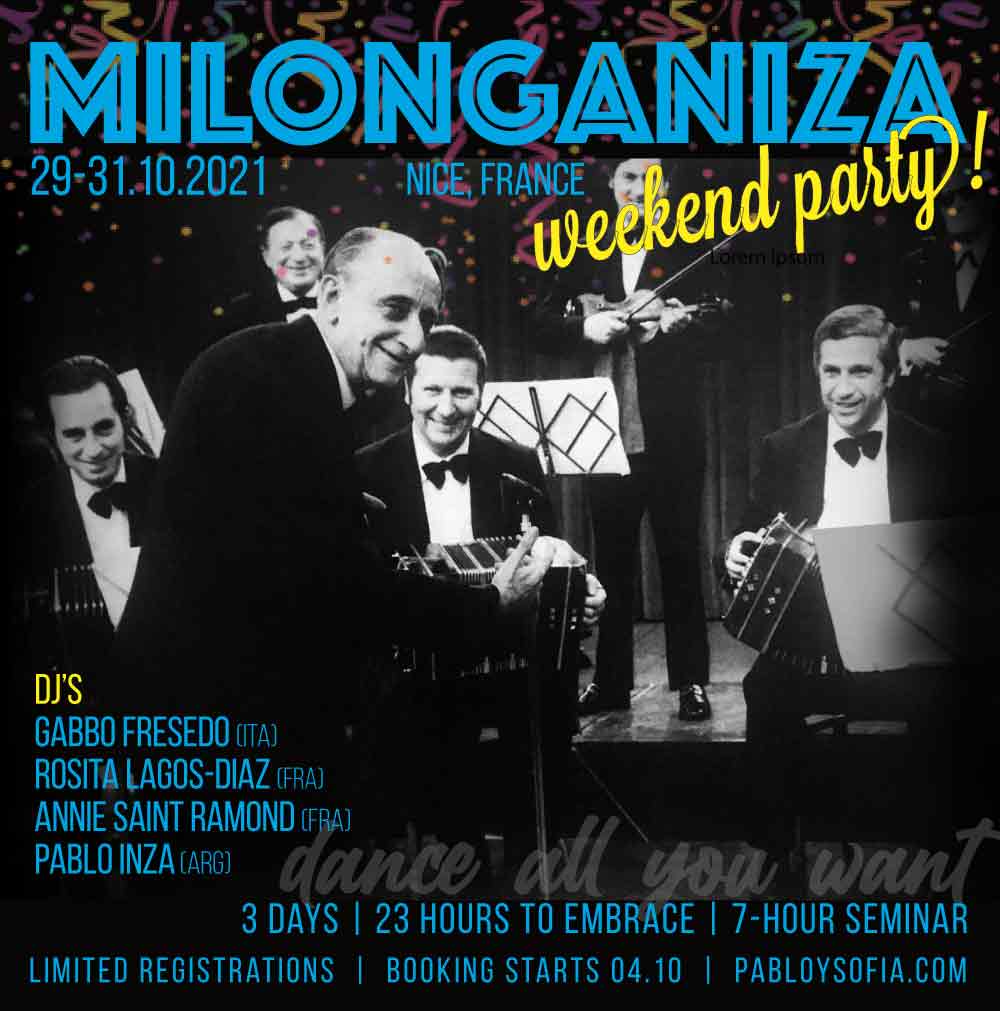 MILONGANIZA WEEKEND PARTY!!
Dear tango friends,
We are so happy to share with you exciting news for the end of October 2021.
Milonganiza is back with a full weekend of milongas and seminar in Nice from Friday 29th until Sunday 31st.
Welcome then, to the first Milonganiza Weekend Party: an intimate event limited to 100 dancers and we want our tango friends to join us!
We hope you will make it to the party!
REMAINING PASSES FOR THE EVENT
FULL PASS (Seminar + Milongas) SOLD OUT
MILONGANIZA PASS (Milongas) SOLD OUT
TIPS TO MAKE THE MOST OF YOUR DANCE
Special 7-hour seminar devoted to a series of topics regarding the social dance. Pablo Inza & Sofia Saborido will share their personal tips and secrets to get the most of the tandas: what they enjoy and what they care about while dancing.
* The follower's and leader's perspectives to solve different situations when improvising
* How to deal with the misunderstandings
* Some inspirations to nourish our dance
* Open or close embrace? Shouldn't be a war!
* Tools to interpret the mood of the music
* How to imbue your dance with personality
* Ideas that help us to better connect
It's the first time ever they will make this seminar, it will be just 100% useful.
LEVEL: Intermediate/ADVANCED
Seminar limited to 15 couples.
Seminar schedule:
Friday 29/10 – 20h-22h – Part 1
Saturday 30/10 – 13h30-17h – Part 2 (with 30min pause)
Sunday 31/10 – 15h-17h – Part 3
20h-22h – Seminar
22h-01h – Welcome Milonga
13h30-17h – Seminar
17h-03h – Non Stop Milonga
Set 1 – DJ ANNIE SAINT RAMOND (FRA)
Set 2 – DJ GABBO FRESEDO (ITA)
15h-17h – Seminar
17h-03h – Non Stop Milonga
Set 1 – DJ ROSITA LAGOS-DIAZ (FRA)
Set 2 – DJ PABLO INZA (ARG)
14h-21h – Afternoon farewell party (optional)
Arty Studio is the place where we organise our weekly classes and milonga (La P'tite). For the weekend party we will use the whole venue that includes two dance rooms (great wooden floor) and the chill out terrace.
Extremely well located, the studio is connected by tramway to Nice airport with a stop only 50 meters away. You can also reach it easily by train as Central station (SNCF) is about 10 minutes walk. To visit the old town and the beach it also takes a 10 minutes walk.
FULL PASS
(all included – 7h Seminar + 23 dancing hours)
Only 15 couple passes available
Early Bird price
€150 p/p  (October 4th to 6th)
Sleepy Bear price
€170 p/p (from October 7th)
MILONGANIZA PASS
(fri-sat-sun – 23 dancing hours) 
Only 35 couple passes available
Early Bird price
€50 p/p (October 4th to 6th)
Sleepy Bear price
€60 p/p (from October 7th)
The registration for the seminar and milongas must be done IN COUPLE and on a first-come, first-served basis. 
Seminar limited to 15 couples 
Milongas limited to 100 dancers
IMPORTANT: No tickets at the door. This is a pre registered event only!
Registration starts on Tuesday 5th October at 20h00
If you encounter a problem during the registration process (with the form or the payment)
please contact us by email at: info@pabloysofia.com
STEP-BY-STEP REGISTRATION
STEP 1. REGISTRATION FORM: Click on "REGISTRATION" to complete the information form about you and your partner online. Only one form is required per couple.
STEP 2. PAYMENT: After completing the registration form you pay directly with your bank card.
THAT'S ALL, IT'S DONE! You and your partner will receive an email from us confirming the registration.
This link will be operational to start registrations from 20h00 on Monday, October 5th, 2021. (Paris Time)
Refund policy

Cancellations before October 10th, 80% of the payment will be refunded.

From October 11th no refund will be made.

In all cases all the bank costs will be on the participant.
The event will follow the health rules in force.
You must have either a fully vaccination certificate, negative PCR,
negative antigenic test (48h) or a certificate that you had COVID in the last 6 months.